Nissan Recalls 762,000 U.S. Vehicles For Ignition Problem
Nissan is recalling 762,000 vehicles in the U.S. and Canada for an ignition problem that could cause engines to stall. The recall covers 2.14 million vehicles worldwide. Nissan's recall affects the Cube, Titan (pictured), Infiniti QX56 and at least a dozen other models sold in Japan, Europe and the U.S., The Associated Press and Reuters report.
Nissan said a problem in the ignition relay could cause the engine to stall or fail to restart. The affected vehicles were built from 2003 to 2006. Nissan said no accidents have been reported due to the problem. This recall is reportedly the third largest recall Nissan has ever conducted.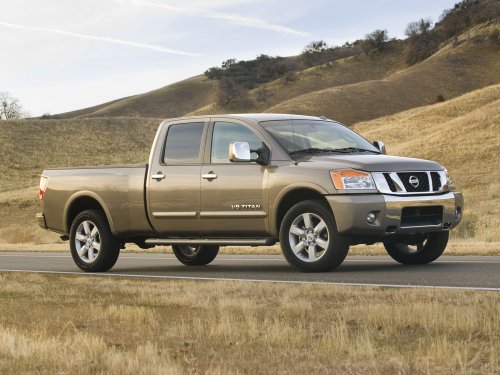 In October, Nissan is continuing its 0 percent auto loan rate incentives and low monthly lease payments on most models. Nissan's October 0 percent auto loan rate deal is good for 36 months on most models. Shoppers who prefer a longer car loan length can take advantage of loans up to 72 months long. The interest rate increases with the length of the loan. Most models with 72-month loan lengths have a 1.9 or 2.9 percent interest rate.
Nissan also if offering 39-month leases for most vehicles in its lineup in October, with monthly payments ranging from $149 to $499. You'll need anywhere from $1,999 to $2,999 at lease signing.