Nissan Titan Diesel Will Use Cummins 5.0-Liter Turbodiesel V8
The upcoming second generation Nissan Titan will be available with a diesel engine. Unlike the Ram 1500's diesel engine, which is sourced from Italy and only has 240-horsepower, the Titan diesel will have a 5.0-liter Cummins V8 turbodiesel made in America.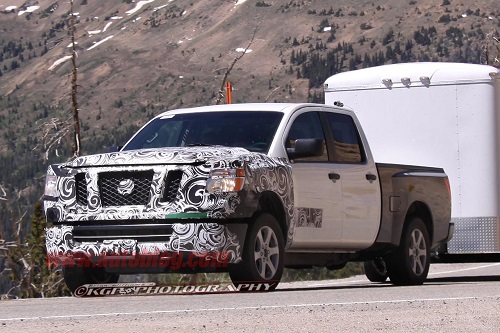 The Titan's Cummins diesel engine will have over 500 lb-ft of torque, and according to Autoblog that number will actually be closer to 550. That will easily out-power the 420 lb-ft Ram 1500 diesel, as well as the 6.2-liter Ford F-150, which has 434 lb-ft and the Chevy Silverado 1500's 383 lb-ft. Horsepower will be around the 300-horsepower mark.
It seems that Chrysler might have upset Nissan by backing out of their deal to build the Nissan Titan and Ram 1500 on the same architecture. If Nissan thought Ram backing out of their deal was a slap with a glove, then the Titan's use of a Cummins diesel, which has long been the trademark of the Ram 2500 and 3500, is a return slap with a gauntlet, Robin Hood: Men in Tights style.
Nissan hasn't announced when the next Nissan Titan will be released. The spy shots of the truck seem to show a current generation truck with a new front fascia, probably to provide extra cooling for the diesel., so it may not be for some time yet.
Image via Autoblog.