Owners Prefer American Vehicles to Imports
American automakers have ranked higher than their Asian and European competitors for the first time in 13 years in vehicle appeal, according to the J.D. Power and Associates 2010 Automotive Performance, Execution and Layout (APEAL) Study released today.
J.D. Power surveyed more than 76,000 owners and lessees of new 2010 model-year vehicles after the first 90 days of ownership. Drivers were asked to rate their new vehicle's performance, execution, layout and design in 10 categories, including vehicle exterior, vehicle interior, storage and space, audio/entertainment/navigation, seats, HVAC (climate controls), driving dynamics, engine/transmission, visibility/driving safety and fuel economy.
Domestic brands scored an average of 787 on a 1,000-point scale, which was 13 points higher than the average score for import brands. When compared to 2009, import auto brands scored higher than U.S. brands by five points. When looking at luxury vehicles, import brands still scored higher than domestic models.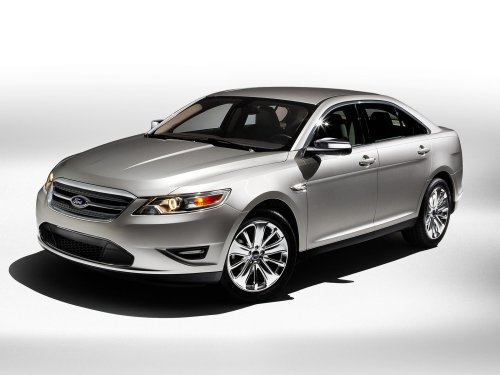 "Domestic automakers have performed three important actions during the past two years that have led to their gains," said David Sargent, vice president of global vehicle research at J.D. Power and Associates, in a statement. "Firstly, they have retired many models that demonstrated low appeal. They have also introduced new, highly appealing models to their lineups, and finally, they have improved their existing models through freshenings and redesigns."
Ford won five segment-level awards, which was more than any other brand in 2010, for its Expedition, Explorer Sport Trac, Flex, Fusion and Taurus (pictured above). Audi, BMW, Chevrolet, Mercedes-Benz and Volkswagen each won two awards. The Mercedes-Benz S-Class had the highest APEAL score of any model in the industry.
The GMC Terrain, Honda Fit, Land Rover Range Rover, MINI Cooper and Nissan Cube also won awards. Five award recipients in 2010 are all-new models, including the Audi Q5, Chevrolet Camaro, GMC Terrain, Mercedes-Benz E-Class Coupe and Nissan Cube.
Porsche was the highest-ranking brand for the sixth consecutive year. Suzuki improved more than any other brand in 2010 when compared with 2009.