Porsche, Lincoln, Buick Top J.D. Power Dependability Study
Porsche is the most dependable vehicle brand, according to J.D. Power and Associates' 2010 U.S. Vehicle Dependability Study. J.D. Power's study measures problems experienced by original owners of three-year-old (2007 model year) vehicles.
Porsche ranked number one in the study, with only 110 problems for every 100 vehicles. Lincoln holds the second spot and moved up six positions from 2009. Rounding out the top five are Buick, Lexus and Mercury.
"Producing vehicles with world-class quality is just part of the battle for automakers; convincing consumers to believe in their quality is equally as important," said David Sargent, vice president of global vehicle research at J.D. Power and Associates, in a statement. "It takes considerable time to positively change consumer perceptions of quality and dependability, sometimes a decade or more, so it is vital for manufacturers to continually improve quality and also to convince consumers of these gains."
Looking at individual models, J.D. Power says that seven of the 10 models with the lowest rate of problems in the industry are from Ford and General Motors, including the 2007 model-year Buick Lacrosse, Buick Lucerne, Cadillac DTS, Ford Five Hundred, Lincoln MKZ, Mercury Milan and Mercury Montego.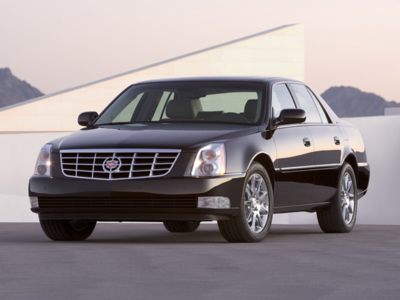 The Cadillac DTS (pictured) has the fewest problems in the entire industry, with just 76 problems per 100 vehicles. This is the first time in more than 10 years that a domestic model has had the lowest number of problems in the study.
Toyota earned the most segment awards for 2010, with four, for its Highlander, Prius, Sequoia and Tundra. Honda won three segment awards for its CR-V, Fit and Ridgeline. Lincoln received two awards for its Mark LT and MKZ.
2010 Nameplate Ranking (problems per 100 vehicles)
Porsche 110
Buick 115
Lexus 115
Mercury 121
Toyota 128
Honda 132
Ford 141
Mercedes-Benz 142
Acura 143
Hyundai 148
Cadillac 150
Infiniti 150
Subaru 155
Industry Average 155
SAAB 158
Saturn 164
BMW 165
GMC 165
Chrysler 166
Kia 167
Volvo 167
HUMMER 169
Jaguar 175
Chevrolet 176
Nissan 180
Audi 182
Dodge 190
Pontiac 192
Mazda 195
Scion 201
Mitsubishi 202
MINI 203
Jeep 222
Volkswagen 225
Suzuki 253
Land Rover 255