Rob Zombie's Custom Ford F100 Truck
Rob Zombie has a sick custom 1967 Ford F100. Rob Zombie's F100 pickup truck has a drab green paint job as a base coat and then skulls and flames in shiny paint over that. The result is pretty crazy looking, which is fitting for Rob Zombie who has been pretty crazy looking for the almost thirty years he's been in the public eye.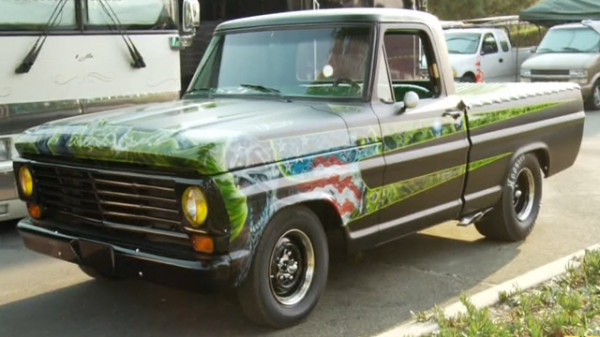 Rob Zombie is a hotrod fan, he has a song named after the famous Munsters car "Dragula" and another about a muscle car "Black Sunshine" which has an intro that says "Gripping the wheel, his knuckles went white with desire! The wheels of his Mustang exploding on the highway like a slug from a .45. True death: 400 horsepower of maximum performance piercing the night… This is Black Sunshine." Rob Zombie's F100 muscle truck might have the Black Sunshine Mustang beat for power, his has a 429 cubic inch Ford Cobra Jet V8. The Ford Cobra Jet had over 400-horsepower from the factory when it was released in the 1970s, so a newly rebuilt motor or a crate motor will probably beat that.
Rob Zombie had his Ford F100 built by Count's Customs and was stripped down, rebuilt and painted in under a week for his Mayhem tour, according to Celebrity Cars Blog.
Image via Celebrity Cars Blog.