Russell Brand Escapes Morning Joe Interview In a Range Rover Sport
Russell Brand drives a Range Rover Sport, an appropriate car for an Englishman far away from the comforts of home. If the handsomely appointed leather and wood interior of the Range Rover doesn't remind Russell Brand of the comforts of home, maybe he can try a Jaguar, though the cockpit is a little more snug and less like a parlor.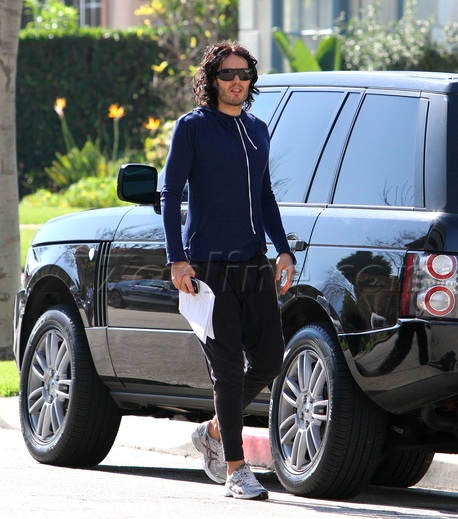 This image of Russell Brand and his Range Rover Sport obviously isn't from the Morning Joe apprearance, but I'm willing to assume that the quick witted Brand is capable of driving himself to and from early morning appearances, no matter how poorly his first cup of coffee goes.
According to Celebrity Cars Blog, Brand had to take a driver's education class, presumably to get his U.S. driver's license. That must be a particularly frustrating for someone who already knows how to drive, but maybe they focused on the differences in rules between England and the United States in driving laws.
Russell Brand did and interview with MSNBC's Morning Joe this week to promote his comedy tour and after they bungled the interview completely, even dropping as low as telling a comedian to just tell jokes for them, Brand let loose a bit on the morning show crew.
I've never seen the show before, but Morning Joe is on MSNBC, a news channel, so what really surprised me was that the hosts showed no shame at Brand's admonishments. Instead of taking his bait and having a real conversation about Snowden and Bradley Manning, which would have made for an interesting segment considering that the only point in having a celebrity on the show is to let the viewers get to know the actual person and the issue of whistle blowers in the U.S. government is clearly something Russell Brand is passionate about, they harped on some minor detail and maneuvered the conversation back to the inane.
Image via Celebrity Cars Blog.