Sienna Miller Topless In Her Audi TT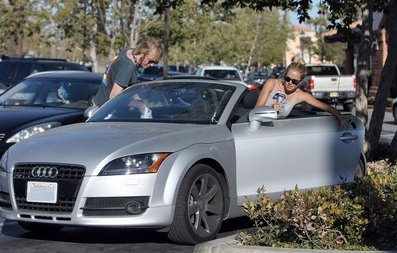 Sienna Miller might be topless in Esquire UK this month, but her car is topless all the time. Sienna Miller drives a Audi TT Convertible, a classy, sporty, great looking car that's surprisingly modest for a Hollywood actor (you'd expect a movie star to rock an R8 or at least an S5).
The Audi TT Roadster starts at $42,900, which isn't much money to spend on a convertible if you're a Hollywood actor like Sienna Miller. The base Audi TT Roadster comes with a 2.0-liter four cylinder turbocharged engine with 211-horsepower that gets 33-mpg highway. If Sienna Miller wanted a bit of excitement from her Audi she could have opted for the TTRS, which started at $57,200 and had 360-horsepower.
Sienna Miller is most famous for her role in G.I. Joe Rise of Cobra and the HBO film The Girl, for which she was nominated for a Golden Globe.
Image via auto-types.com.