Steven Tyler's Car – The $1.1 Million, 1,200-HP Hennessey Venom GT Spyder
Steven Tyler has the world's first Hennessey Venom GT Spyder. Tyler contacted Hennessey about buying a Venom GT, one of the fastest cars in the world with a 7.0-liter, 1,200-hp twin-turbo V8 engine capable of speeds as high as 272-mph. Steven Tyler wanted something special though, more special than a custom built ultra low production super car capable of 1/3 the speed of sound, so he asked Hennessey to make a convertible version. I don't know what a scarf and long hair look like at 250-mph, but I'd love to see.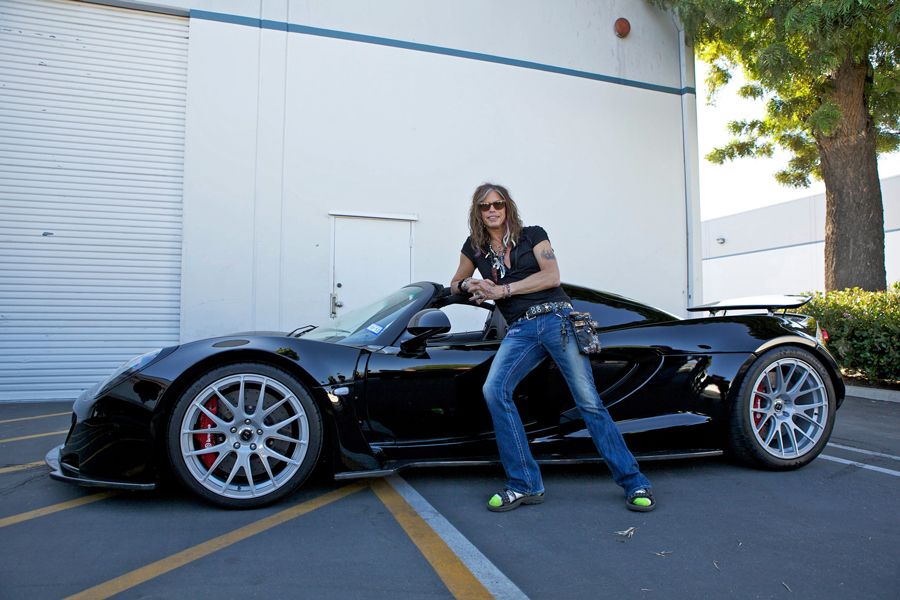 The Hennessey Venom is based on a Lotus Exige, but the end result is pretty far from Lotus' lightweight four-cylinder powered sports car. Steven Tyler's Venom GT Spyder actually makes more power than the hard top Venom GT. According to John Hennessey, this is because the convertible needed extra bracing and weighs a bit more than the standard car and they wanted to keep the Venom's one-hp per kg power to weight ratio. Hennessey says that the Venom GT Roadster will do 0-200-mph in under 16 seconds, according to Top Gear, which makes it quicker to 200-mph than the Bugatti Veyron. Five Venom GT Roadsters will be built, and two are still available, so if you have 1.1-million dollars you want to spend on a convertible, you'd better act fast.
Image via Business Insider.