What Cars Do NASCAR Drivers Drive On Their Days Off? Kevin Conway's Ford Raptor and Lamborghini
NASCAR drivers spend their work days driving 850-horsepower 3,400-lb cars at speeds of over 200 miles per hour, so finding a street car that excites them would be something really special. In fact, the reason Top Gear has The Stig is that they knew no race car driver would have anything good to say about a normal car, so they decided not to let any have a speaking roll.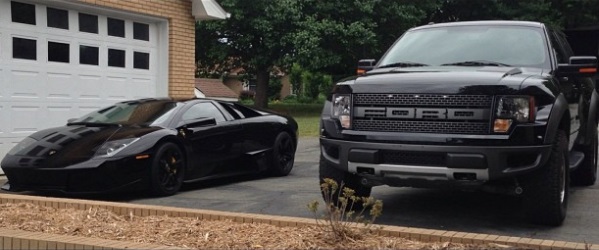 So what would a NASCAR driver like Kevin Conway, who was named the 2010 NASCAR Sprint Cup Series Rookie of The Year, seems to have found a couple cars that can at least keep him interested on the road. Kevin Conway drives a Lamborghini Murcielago, which has over 650-horsepower and weighs 3,600-lbs, not all that far from a NASCAR Sprint Cup car but surely not as interesting to drive. For when the roads aren't race track smooth, Kevin Conway also has a Ford Raptor truck, which has just 400 horsepower but has 12 inches of rear suspension travel, something neither of Conway's more powerful rides can even come close to.
Image via Celebrity Cars Blog.