Xzibit's Gumball 3000 Bentley Needs Repairs
Xzibit is participating in this year's Gumball 3000 and on the first day the Bentley he's driving with team Bonita had to come in for some repairs. The Bentley's body and drivetrain are perfectly fine, but the paint on the wheels has already peeled almost completely off. Gumball cars are often wrapped in vinyl to show sponsors and give the cars a unique look, so it looks like the wheels were either painted or plastidipped to match the car's new look, but because of the intense use the car saw (and possibly intense speeds?) the finish peeled off.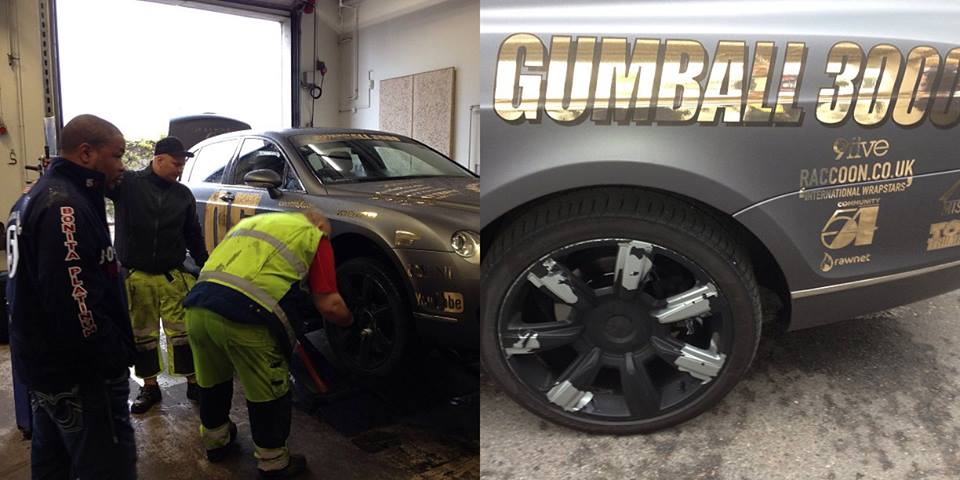 The Gumball 3000 is a yearly event where 120 exotic cars travel across continents over the course of a week and participate in all sorts of vehicular hijinks along the way. This year's Gumball 3000 will start in Amsterdam and end in Monaco, taking a route that sends the cars through Europe to Russia and back. The event isn't a race like the original Gumball in the 1976 film, it's more of a celebration of car culture with some of the most beautiful and unique cars in the world (this year a team is driving a custom made replica of Batman's Tumbler).
Image via GumbalTV Facebook page.