Bank Car Loans Can be a Great Option for Shoppers With Good Credit
Financing your auto loan directly through your bank is one of the more uncommon ways to finance a car. Most shoppers simply apply for their car loan through the dealership. But now that banks and credit unions are advertising low auto loan rates and letting car shoppers know they are ready to lend, consumers with good credit scores can receive a low auto loan rate on their next new vehicle.
Stephen Hadley, a retail store manager in Florida, was searching for several months for a new vehicle. When it came to the financing, he didn't have to search very long to find a good deal on his car loan. After a rough start, he finally was able to get the vehicle he wanted with an auto loan that fit his needs.
"I had it narrowed down to the GMC Terrain and Buick Regal," Hadley says. "I went to Sheehan Buick GMC in Lighthouse Point, Fla. on a Saturday. They didn't have any Terrains on the lot, so I drove the Regal while I was there. Honestly, the engine sucked. I asked the salesman about the pricing on the Terrain and he wouldn't even give me a number without coming in the office and filling out paperwork."
"I told him that other dealerships would talk pricing with me. He said 'maybe you should go to the other places.' So I did and walked off the lot. There's no way the car industry is doing that good that dealers are turning people away like that. I couldn't even get a friendly conversation started with him."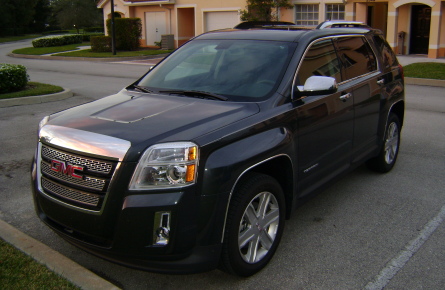 Hadley says he then drove up the road to Sherwood Buick GMC in Delray Beach, Fla. that same day, and was greeted by John, one of the salesmen. After letting John know he wasn't interested in buying anything that day, but within the next week or so, he wanted to compare the Regal to the Terrain.
"The Regal is a really nice car but I wasn't impressed with the engine," Hadley says. "They had the GMC Terrains on the lot, so we looked at the four-cylinder and six-cylinder models. Being that it was an SUV, the six-cylinder made more sense. The engine really was the deciding factor because both the four-cylinder and six-cylinder models had the options and technological gadgets and features I was looking for."
"The gas mileage was great on it, which was important for me because I drive a lot of miles for work. I test drove both engine options on the Terrain and found that the six-cylinder was the best for me. I waited a week and stuck to my guns. John did not pressure me at all to buy that day."
Hadley says once he decided on the Terrain, he went online to read more consumer reviews, just to make sure that was the vehicle he wanted to buy. Then he turned his research to the auto loan.
"I wanted to see what kind of financing I could get on my own before going through the dealership," Hadley says. "I went into my local bank branch, Bank of America, who I already have a checking account, savings account, two credit cards and a mortgage with. The bank employee simply went online and walked me through the application, which I didn't realize I could have done at home myself."
The auto loan application was fairly simple, Hadley says. It asked for your name, address, social security number, income, time at residence, time at job, how much total loan amount you're looking for, length of loan and type of car. Once it was filled it out and he clicked submit, it only took a few seconds for Bank of America to come back with an offer sheet.
"The offer sheet showed the different auto loan rates depending on the length of the loan that I was approved for," he explained. "They offered loans at 36, 48, 60 and 72 months. They were offering 3.6 percent for 72 months, and less for the shorter loan amounts."
"I knew I wanted a 72-month auto loan from the beginning to make the payments more manageable," Hadley says. "I knew it would cost more in interest, but I was okay with it. I want to pay it off in two to three years, but would rather have lower monthly payments to free up more cash on a monthly basis. I plan on using work bonuses to pay the car loan off early."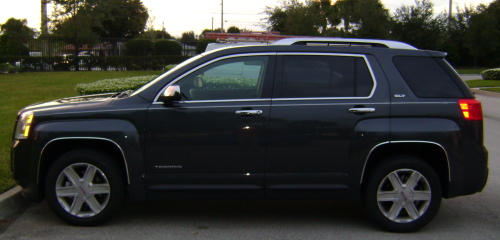 One thing to realize with bank auto loans is that your credit score has to be good or great. Most credit unions and banks require about a 660 or higher to qualify for their car loan rates. Hadley says he checked his credit score three to four months before he applied for the auto loan.
"I bought my credit score on the free annual credit report site through Experian," he says. "At the time, it was 790."
"Now that I had my financing secured, I went back to the dealership the next Saturday. The specific Terrain I wanted was still there. They asked about financing and I told them I had a pre-approval through Bank of America. I told them if they can beat it, I'd finance through them. They flat-out told me they wouldn't be able to beat it."
"They showed me a grid that looked like an Excel spreadsheet," he explains. "It listed every GMC vehicle and the current auto loan rate incentives for August. They told me they were selling the Terrain very easily and there were no incentives on the Terrain that month. They told me they couldn't match the car loan rate from Bank of America and therefore didn't even bother to pull my credit and try."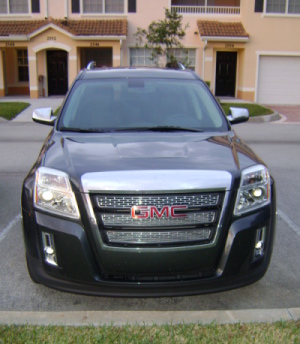 When it came time to negotiate the price of the Terrain, Hadley says he was prepared.
"I already had looked up the dealer invoice price on Edmunds.com and knew there was a really small window of about $1,400 or $1,500 for negotiating the Terrain's price," he says. "I also had looked up my trade-in's value on KBB.com and received an appraisal from CarMax, a used car dealership. My 2003 Mitsubishi Galant with 130,000 miles was appraised by CarMax for $2,000, which the dealership matched after looking at the Galant while we were negotiating the price on the Terrain."
"They took $800 off the sticker price on the model I wanted, which was the SLT2. When we took a closer look at the options the SLT2 had, like pin striping, wheel guards and door guards, I told them I didn't need or want any of that. So they gave it to me for free. It was about $1,000 total for the free options. So basically, I got $1,800 off the price of the vehicle."
"The dealership gave me $2,000 for my trade," Hadley says. "I wrote them a check for $8,000 for the down payment that I had been saving for a while, which totaled $10,000 as a down payment on the Terrain. It cost about $35,000 after negotiations, tax, title, fees and options."
"They let me drive it off the lot that day and I gave them my trade. The finance manager wasn't there that Saturday afternoon because of a family emergency. I came back Monday to finalize the paperwork and give them the Bank of America check. My car loan amount is about $25,000 at 3.6 percent over 72 months, making my monthly payments about $389."
Overall, Hadley says that even though he had a bad experience at the first dealership he visited, he's glad he went to another one and got the car and auto loan he wanted.
"I love the car," he says. "It has everything I wanted, including the engine, space, gadgets and fuel efficiency. It had everything on my check list. I didn't have to settle."
"The auto loan financing was easy because all my stuff is with Bank of America and I pay everything online. It's the second car I've financed through a bank, so I already had some experience with it."
"The worst part of my car buying experience was the salesman at Sheehan because I felt very turned off to the whole process at that point," Hadley explains. "The guy was a prick and wouldn't work with me."
"The best part of my experience was the service and courtesy extended to me at Sherwood. They respected my intentions and took the time to show me the cars and test-drive them, even though I told them I wasn't buying that day. The auto loan process through my bank was also very easy. It was one of the best car buying experiences ever."
Copyright © 2010 AutoLoanDaily.com. All rights reserved. This material may not be published, rewritten or redistributed without permission.
Images © 2010 AutoLoanDaily.com.