Buyers Are Getting Approved For Car Loans Even With Bad Credit
If you have less-than-perfect credit and need a car loan, where do you begin? Do you go to your local bank, your local new car dealer or do you try the online financing route?
One of our AutoLoanDaily.com readers emailed us this week to let us know his story about how he got approved for a car loan even though his credit score is not in the 720 and higher range, which lenders recommend for the best rates.
Since he is very similar to a lot of car buyers, we thought it would be beneficial to share his experience with everyone.
"I went to a buy here pay here lot to shop around and tried to get financed there. I was expecting to get financing there because of fear of getting rejected at a traditional dealership.
The owner was a friend of a friend and we only discussed car prices. He never talked about financing so I had doubts about the rate he would give me. I was asking about a 2002 Honda Civic and he was pushing me to look at a 1999 Civic or a 1997 Camry instead. I wanted the 2002 Civic but the price he quoted me was much higher than I thought it was worth. I decided to look around more at other places.
I tried another buy here pay here lot. They had a very clean 1997 Buick Century but wanted $4,200 and it had more than 100,000 miles on it. He wanted $1,000 down so I told him I would get back to him.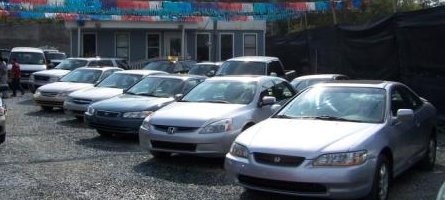 Buy here pay here car dealerships like the one pictured above can be great for people with not-so-perfect credit.
I filled out the free car loan quote form on AutoLoanDaily last Thursday as well as applying for a car loan through a local credit union. I wasn't a member of the credit union, but tried anyways. That night, while driving home, I noticed a 1996 Chevy Cavalier Z24 at a private residence. He wanted $1,200 so I asked him about the car and he let me test drive it. I offered him $850 for it and he said he wanted $1,000.
While I was test driving the car, I was debating whether or not I really wanted a car payment. I was in desperate need of a vehicle and really didn't want a car payment at the time. So ultimately, I decided to purchase the Cavalier for $1,000.
Monday morning, I got a call from a local dealer that got my information from the loan form I completed on AutoLoanDaily.com. I let them know I already purchased a car but I assumed I was approved for the loan because they were calling and were very interested to talk to me. Later on that day, I got a call from the credit union telling me I was approved for $8,000 at 15.99% for 48 months. I also let them know I purchased a vehicle over the weekend. In hindsight, I might not have accepted their offer because the interest rate was so high. But it was good to know that I was approved for a car loan with a credit score of 615.
I learned a lot from this experience. Do your homework. Shop around for a car you like. Print out the Blue Book value, even if it's a used car, so you know where to start negotiating from. If you can take it to a mechanic, do so. Inspect the vehicle very closely and test drive the vehicle. Never discuss price before you do any of this. Never mention how much money you have to put down because this gives them the opportunity to increase or pad the price if you have a good down payment."
–
Clark Hanley, Harrington, Del.
As you can see from Clark's experience, don't give up if you think you may be turned down for a car loan. Don't assume that you won't be approved for a loan if you don't have stellar credit. There are banks, credit unions and dealers that will approve you.
Image via bizbuysell.com.
Copyright 2009 AutoLoanDaily.com. All rights reserved. This material may not be published, rewritten or redistributed without permission.