Cash For Clunkers Funds Gone in One Week?
The government's cash for clunkers program has had such a huge consumer response that it is almost out of money.
The $3,500 to $4,500 rebate, known as the CARS program, officially started Monday, but in less than a week, the $1 billion in funds has almost been depleted. The program was scheduled to run until Nov. 1 or until the funds are gone.
Congressional sources said early Thursday evening that the program would be put on hold. But Obama administration officials said later that the CARS program was not suspended.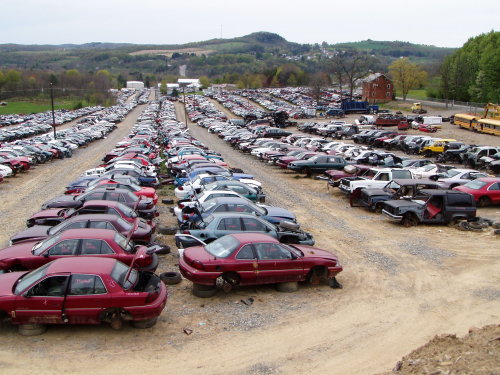 It looks like the government underestimated consumer interest in the cash for clunkers program, as all the funds are almost gone in less than a week.
Clearly, more government funds are needed to keep the cash for clunkers momentum going. The rebate to trade-in a clunker for a new, fuel-efficient vehicle has boosted sales for dealers and automakers and could be just the stimulus program the industry needed to get back on its feet.
Sen. Debbie Stabenow, D-Mich., called on Congress to appropriate more money. Stabenow said the rebate has resulted in 200,000 car sales and given the economy a much needed boost, CNN reports.
"I am delighted to hear dealers say that all of their salespeople are busy and they are selling more cars in a day than they had been selling in a month," Stabenow said.
As of this morning, consumers who want to take advantage of the CARS rebate this weekend can rest assured their voucher will be honored, CNN reports. Consumers still have to meet the program's requirements to receive the voucher. But on Monday, Aug. 3, things could be different. If the money is gone, consumers may have to wait to see if Congress will approve more funds for the program.
"Auto dealers and consumers should have confidence that all valid … transactions that have taken place to date will be honored," a White House official said in a statement.
An early version of the cash for clunkers bill had set aside $4 billion in funds. Congress will have to move fast to add more money to the program before the August recess.
The House voted 316-109 Friday afternoon to transer $2 billion in emergency funds to the CARS program to allow it to continue. The money is coming from the $787 billion economic stilmulus plan, the Wall Street Journal reports. The Senate still needs to vote on the $2 billion transfer and is expected to decide next week.