GM Plus Segway Equals Project P.U.M.A.
GM has partnered with Segway to build a prototype two-seat electric vehicle. The Personal Urban Mobility and Accessibility vehicle, or Project P.U.M.A., will be shown in New York Tuesday morning.
Resembling a stripped-down golf cart, or a Segway you can sit in, the electric P.U.M.A. prototype (pictured below) can travel up to 35 miles per hour and go 35 miles on its lithium-ion batteries. The upright two-wheeler is designed as a car alternative for crowded, urban areas to help get people around busy cities.
It even has a windshield that goes up into a half-roof, but doesn't completely cover the riders. The sides are open and there is absolutely no cargo space. I'm not sure where you would put your groceries if you used it to run errands, or what you would do if it rained or snowed. Maybe it's just designed to get you to work and back in good weather.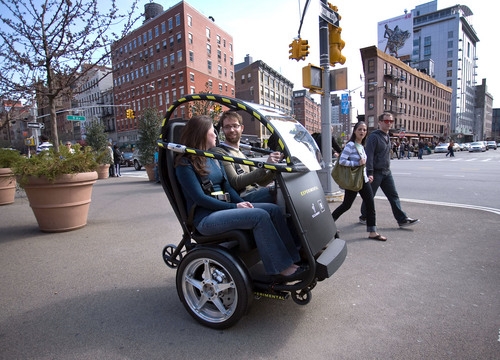 It was test-driven in New York City, where the average speed is less than 18 mph and the average trip is less than 10 miles, said GM's Chris Borroni-Bird, director of advanced technology vehicle concepts. The cost of owning and operating an urban vehicle would be 25 percent to 33 percent less than a conventional vehicle, Borroni-Bird claims.
The Project P.U.M.A. electric vehicle will be on display at the New York auto show.
Image courtesy GM via the Detroit News.