GM Wants to Sell its Cars on eBay
As the new GM tries to reinvent itself, one idea it hopes will spur sales is to sell its entire line of vehicles on eBay through a pilot program.
The program would most likely start in California and if it is a success, it could go nationwide, GM CEO Fritz Henderson said. The program with eBay hasn't been finalized yet.
"At this time, no plans have been finalized with General Motors," said Rob Chesney, vice president for eBay Motors. "We hope to support GM's new company and vision going forward."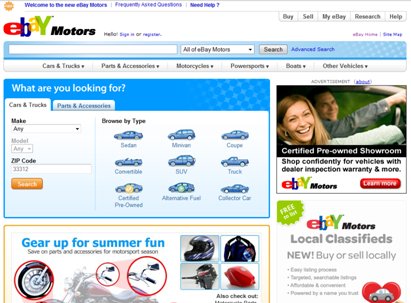 GM hopes to sell all its vehicles, new and certified used, on eBay Motors.
GM has actually been selling its certified used cars on eBay for more than a year. Competitors Chrysler and Toyota also sell their certified used cars online as well, CNN Money reports.
Here's how it would work. Consumers could bid on the GM vehicle they are interested in on eBay. There will also be a "buy it now" option. Once the winning bidder is selected, he or she would then go to the dealer to actually purchase the vehicle and obtain their auto loan. There's no word yet if GM plans to use the eBay program to allow leasing customers to negotiate the price of a vehicle they plan on leasing.
This type of car shopping may benefit consumers who aren't that good at negotiating or don't have time to go to the dealership to buy their next vehicle.
Susan Docherty, general manager for GM's Buick, Pontiac and GMC brands, said that GM decided to try selling cars on eBay because 80 to 90 percent of GM shoppers already spend a lot of time researching their purchase online.
If GM's eBay program ends up working, shoppers will begin using eBay as a research tool to see what people are paying for cars, even if they don't intend to buy through eBay, said Scott Painter, chief executive of TrueCar.com. That information alone will be valuable for consumers, Painter said.