Hummer SUVs Get Big Rebates and 0% Auto Loans to Clear Out Inventory
Hummer's demise can be your chance to score a fantastic bargain. General Motors officially announced Wednesday it is shutting down its Hummer SUV brand and offering huge rebates and 0% auto loans to help sell the remaining 2,200 vehicles.
GM is offering a $6,000 rebate on 2009 Hummer H2 or H3 SUVs. Buyers can also take advantage of a $5,000 rebate on the 2009 Hummer H3T truck (pictured below). If you can find one, you'll receive a $4,000 rebate on remaining 2010 Hummer H3T trucks, CNNMoney.com reports.
GM is also offering 0% financing on auto loans up to six years (72 months) on all Hummer models if you qualify through GMAC, GM's car loan provider.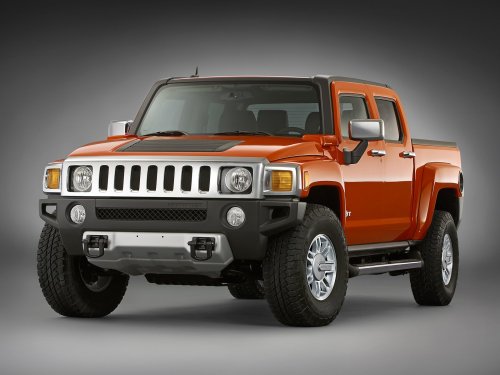 If you're considering taking advantage of the big rebates on remaining Hummer SUVs and trucks, you'll want to think about its future resale value. Now that the brand will no longer exist, if you plan on trading it in or selling it in a few years, you most likely won't get very much for your Hummer. On the other hand, if you plan on buying a Hummer and driving it until the wheels fall off, this could be a great opportunity to buy a Hummer for a great price.
Although gas prices are increasing recently, most people who own Hummers aren't necessarily concerned with fuel economy.
GM sold less than 300 Hummers in March, so dealers should be willing to bargain hard to get rid of the rest of their inventory. You probably won't be able to be picky with the vehicle's color, interior and options though, since there are only 2,200 left.