In the Market For a Used Car?
I listened to a webinar today about used car sales for 2009. The webinar, hosted by Cars.com, included panelists and speakers Dennis Galbraith, vice president of Cars.com, Art Spinella, president of CNW Research, and Paul Taylor, chief economist of NADA.
The webinar was intended for dealers to listen and gain advice and knowledge of how to market their used cars better so they can sell more.
When the topic of used car auto loans came up, I heard some interesting data. First, dealers are on track to sell 39 million used cars in 2009, which is a positive note for dealers looking to spur sales when new car sales are down.
Second, with so many consumers looking to buy a used car instead of a new car, used car loans will need to find lenders. They suggested that community banks and credit unions, which haven't taken the massive losses from the housing fallout like the big banks have, are the dealers' best bets to obtain financing for a used car buyer.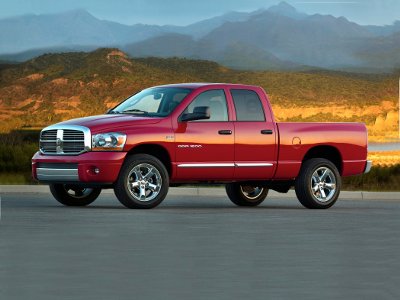 In the market for a used Dodge Ram truck? Your local bank or credit union is your best bet to get approved for a used car loan.
During the webinar, it was stated that a 650 FICO score is the average credit score for used car buyers. So if you're score is not in that area, you should work on
increasing it before you try to apply for a used car auto loan
. If your FICO score is above 650 and you're in the market for a used car, you should be able to get a decent rate.
Remember to shop around and try to get pre-approved financing before you go to the dealer, even if you're planning on buying a used car. There are a lot of car loan financing options out there for buyers in the used car market.