Jennifer Lawrence's Chevy Volt
Jennifer Lawrence won at the Oscars last night, both literally and figuratively. Lawrence won Best Actress at the Academy Awards, which is a pretty big win. The Silver Linings Playbook star then won the hearts of America when, before accepting her award, she tripped and fell on the stage because she's just a normal girl forced into that crazy world that we call Hollywood.
Lawrence started her speech off to a standing ovation and said "you guys are just standing up because you feel bad that I fell and that's really embarrassing, but thank you."
Jennifer cemented her status as a lovable everywoman by getting flustered and star struck when Jack Nicholson interrupted her interview after the show.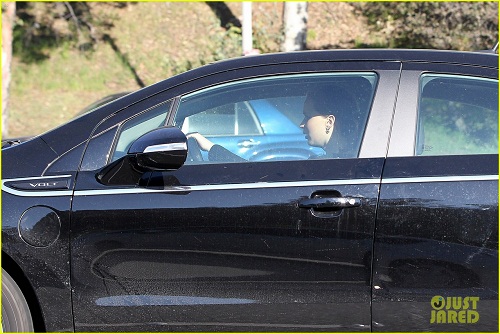 Instead of her VW EOS, Jennifer Lawrence is currently driving a Chevy Volt, which combines the eco-friendliness of the Hollywood favorite Toyota Prius with an American car company, making it the perfect car for the perfect woman. It's like Jennifer Lawrence was created specifically to make every boy have a crush on her and every mother wish their son could find a girl like her. I have a feeling we're going to find out she's an alien that feeds on adoration, right after we elect her President For Life of The United States and dismiss the legislative and judicial branches for not being beautiful and talented, but still totally down to earth and identifiable.
Image via Just Jared.