Justin Bieber's Ferrari Crashed by Lil Twist, Bieber Drives a Lamborghini in the Mean Time
Justin Bieber's White on White Ferrari 458 Italia is in the shop being repaired after Lil Twist borrowed it and crashed it on Bieber. While his Ferrari is being repaired, Bieber needs a suitably awesome car to drive around (he can't just hitch a ride from Selena Gomez in her Ford Escape). Bieber was seen driving a Lamborghini Aventador DMC LP900 Molto Veloce.
The DMC Aventador LP900 Super Veloce, as the name implies, has 900 horsepower. While most cars get 20 or maybe even 30 horsepower from an intake, exhaust and tune, the Lamborghini Aventador gains 200. In fairness, the DMC Aventador LP900 gets 12 individual intake throttle plates, so it isn't quite the same as tossing in a new intake tube. Nor should it be, considering that the kit costs $165,000, according to Top Speed.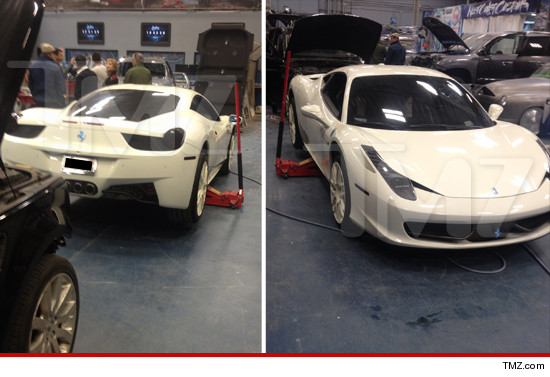 Bieber is driving the DMC Aventador LP900, which is a rental, because his Ferrari 458 Italia was crashed by a friend who had borrowed it. Bieber's friend Lil Twist hit something in the Ferrari 458 while leaving the Four Seasons and bottomed out, doing $8,000 to $10,000 in damages that Four Seasons will pay. Bieber must have sold his murdered out F430 when he bought the 458 Italia, or he just decided that he wanted to drive a 900-horsepower Lamborghini, which I certainly can't fault him for.
Image via TMZ.