Justin Timberlake's Audis
Justin Timberlake doesn't always cruise around in a classic Pontiac GTO or a built Jeep Wrangler Rubicon, but he does love convertibles. Justin Timberlake and Mila Kunis drove an Audi S5 in the movie Friends with Benefits.
The Audi S5 is a gorgeous sports car, even better looking in convertible form. The S5 has a supercharged V6 engine with 333-horsepower and 325 lb-ft of torque and all-wheel drive, giving it a 0-60 time of 4.9 seconds.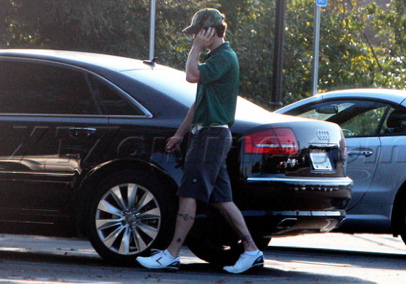 The $52,000 S5 is a pretty nice car, but when Justin Timberlake is driving himself around he chooses the A8, which is seen in this picture in its natural habitat, loaded up with golf clubs at the country club. The Audi A8 price ranges from $75,000 to $135,000, depending on trim line.
Justin Timberlake Mila Kunis Audi S5 image via MSN.
Justin Timberlake Audi A8 image via X17online.com.