Kia is Most Improved Automotive Brand in ALG Perceived Quality Study
Kia, Toyota, Lexus and Land Rover all did well in ALG's Spring 2011 Perceived Quality Study. ALG, known for predicting vehicle residual values in its automotive lease guide, surveys 3,000 to 4,000 U.S. consumers twice a year to gauge perceptions of mainstream and luxury automotive brands for its study.
In ALG's latest Perceived Quality Study, Honda ranked number one, while Toyota came in second among non-luxury brands. Toyota's score increased 4 percent over the past six months, even though the automaker continues to issue numerous safety recalls on its vehicles. Toyota's luxury brand, Lexus, took the top spot among luxury auto brands. Lexus' score increased 1.3 percent over the last six months.
"The continued rebound of Toyota is a testament to the brand's solid reputation for quality and ownership loyalty," said Eric Lyman, director, Residual Value Solutions, ALG. "Toyota isn't out of the woods yet, however, as the company faces the repercussions of another large recall earlier this year."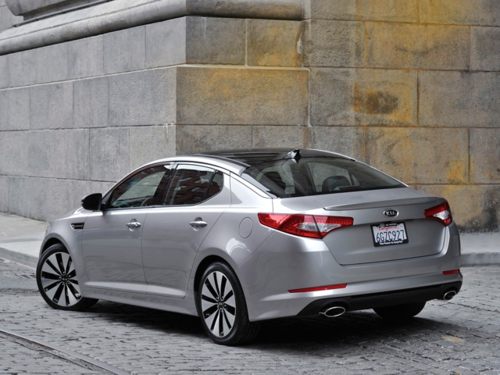 Kia's new 2011 Optima represents the brand's revamped vehicle designs.
Land Rover saw the biggest increase in its perceived quality score among luxury brands, and was up 2.5 percent over the past six months. Kia was the most improved among mainstream brands and was up 5.6 percent.
"We also see the success of Land Rover being fueled by the growing popularity of its driver-oriented Range Rover Sport and the Evoque, helping the brand slowly notch perception improvements," Lyman said. "For Kia, the consumer quality recognition is the payoff for a recent revolution in product quality and design supported by aggressive marketing campaigns."
Honda, Toyota, Ford Trucks, Subaru and Nissan were the top five overall (in order) among non-luxury brands in the recent survey. The luxury automotive brands that topped ALG's list were (in order) Lexus, Mercedes-Benz, BMW, Porsche and Acura.
"Perception is a powerful force in consumer buying behavior," Lyman said. "Our PQS has become the barometer by which the automotive retail industry measures consumer perceptions and beliefs. A negative perception can dramatically affect a brand's entire lineup, while a positive perception can boost sales tremendously."