Tom Brady and His Audi Involved in Boston Car Accident
New England Patriots quarterback Tom Brady wrecked his Audi this morning in a two-car accident, The Associated Press and Boston Globe report.
Brady's Audi sedan reportedly collided with a van about 6:30 Thursday morning in Boston. The accident occurred in Boston near the NFL star's home in the Back Bay area, the AP reports.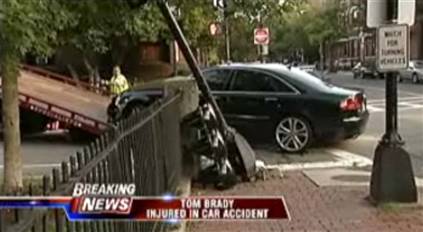 A witness said that Brady was traveling east on Gloucester Street and had a green light at Commonwealth when the minivan, traveling on Commonwealth, went through a red light and the two vehicles collided, the Globe reports. Apparently the light was hit during the accident and Boston police are investigating.
Boston Globe sportswriter Albert Breer reported that Brady refused medical treatment and continued on his way to work at Gillette Stadium. The AP reports that Brady was uninjured in the accident.
Boston Fire Department Spokesman Steve MacDonald told the Boston Globe that a man who was stuck in the back of the passenger van had to be removed with the Jaws of Life. His injuries are reportedly considered non-life threatening.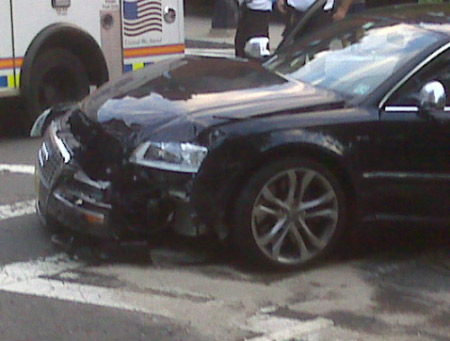 From photos by WHDH 7NEWS NBC Boston and Boston.com, it looks like Brady was driving a black Audi A8. Update: Audi confirmed that the car is an Audi S8 loaner. The Audi S8 is more pricey than the A8, at about $96,000. If Tom Brady took out a car loan for his Audi, his monthly payments would be $1,938 on a four-year auto loan at 6 percent with a 20 percent down payment, which is about $300 more a month than the A8.
That's not too high of a monthly car loan payment, considering Brady rakes in millions of dollars every year through his NFL contract and endorsement deals. Brady didn't pay anything for the wrecked Audi though. Forbes reported a year ago that Brady has an endorsement deal with the German automaker.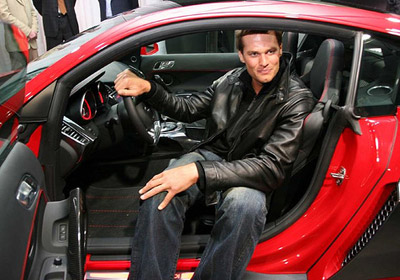 Top image WHDH via NBC Sports/AP. Middle image via Boston.com. Bottom image (Audi S5/Brady) via Forbes.com.