Paris Hilton's 2012 Lexus LFA a 30th Birthday Present From Her Boyfriend
Last week, socialite Paris Hilton received a 2012 Lexus LFA from her boyfriend Cy Waits for her 30th birthday. The base price for Lexus' new supercar is $375,000. Once options are added, the price can be much higher.
Although it was initially reported that Ms. Hilton received a yellow LFA like the one Lexus is using in its promotions for the car, it turns out this was just a stand-in for the birthday present presentation.
Paris Tweeted Feb. 17, "My boyfriend is such a prankster. As a practical joke when he surprised me with the car. He first had them pull up a yellow lexus. I was in shock! The car is amazing! But yellow! So not my style! Ha. Then he had the real present pulled up, the lexus in a beautiful pearl white. :)"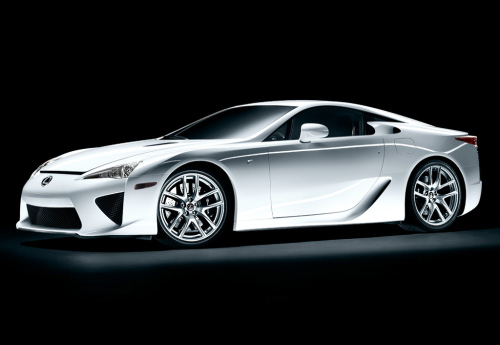 Lexus says that buyers can customize the six-figure sports car with 10 different standard exterior colors, 20 special exterior colors, three wheel finishes and six brake caliper colors. On the interior, buyers can choose from three standard colors, nine special colors and "an interior divided into multiple zones, each customizable by several colors, down to the stitching itself."
With all these options, it's more likely that Hilton's Lexus LFA is being special-ordered and she hasn't received it yet. Production of the car just started in December. Customized versions of the LFA take longer. Only 500 of the Lexus LFA supercars will be built.
A few of Paris Hilton's other/previous cars include a pink Bentley Continental GT and a Mercedes-Benz SLR McLaren. The 4.8-liter, V10 Lexus LFA can go from 0 to 60 mph in 3.6 seconds and can reach a top speed of 202 mph (on a track).
If Paris Hilton's boyfriend, entrepreneur, restaurant and nightclub owner Cy Waits, took out an auto loan to pay for her birthday present, his monthly payments would be $7,323. That's if he gave a 20 percent down payment of $75,000 and on a four-year loan with a 5 percent interest rate and 6 percent sales tax.
Image courtesy Lexus.