Tom Brady Gets a New Audi After Wrecking Loaner
Tom Brady's Audi S8 that was wrecked on Sept. 9 in Boston has been replaced. The Audi S8 sedan was a loaner from Audi. Since the New England Patriots quarterback is one of Audi's celebrity clients who works with the charity Best Buddies, which Audi sponsors, the automaker has given Brady yet another vehicle to replace the one involved in the two-car Back Bay area accident, where Brady reportedly lives.
"We put him in a new car," said Audi U.S. Chief Johan de Nysschen in an interview at an introduction event for the new A8 in Los Angeles, USA Today's Drive On reports.
Brady wasn't injured in the crash and went to practice right after it occurred. At more than $90,000, you'd expect a luxury sedan like the S8 to protect its driver and passengers in an accident.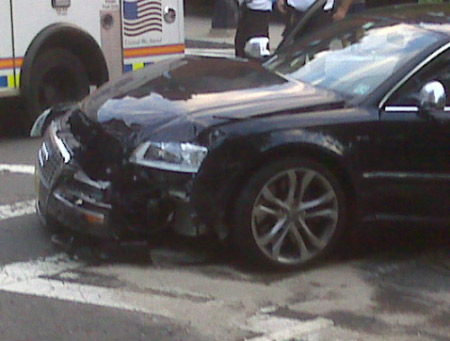 The Audi S8 has an MSRP of about $96,000. Tom Brady's auto loan payments would be $1,938 over four years at 6 percent and a 20 percent down payment.
Brady didn't pay anything for the wrecked Audi though. Since the Audi S8 was a loaner from the automaker, it's likely even the insurance policy was through Audi or the Best Buddies charity.
Brady recently signed a $72 million contract extension with the Patriots, Boston.com reports. For that kind of money, Tom Brady could buy a few Audi S8s without blinking an eye. Do you think Brady should have accepted another free Audi after wrecking the other one? Let us know in the comments section below.
Image via Boston.com.