Toyota Recalls 245,000 Vehicles in U.S. For Fuel Pressure Sensor Problem
Toyota is voluntarily recalling 245,000 Lexus vehicles to inspect the fuel pressure sensor installation. The recall involves 2006 through 2007 Lexus GS 300/350 sedans, 2006 through early 2009 IS 250 models and 2006 through early 2008 IS 350 vehicles in the U.S.
Toyota is recalling the cars to inspect the fuel pressure sensor's installation. Toyota said in a statement that because of insufficient tightening of the fuel pressure sensor connected to certain engine fuel delivery pipes (those with Nickel Phosphorus plating), it's possible that the pressure sensor could loosen over time. If this happens, fuel could leak past a gasket used in the connection between the sensor and the delivery pipe and through the threaded portion of the sensor.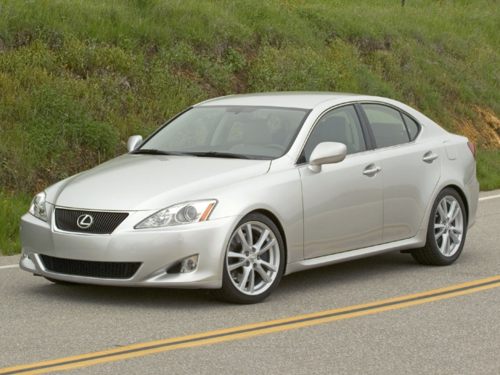 2006 Lexus IS 250
Lexus dealers will inspect affected cars for fuel leakage and if no leakage is found, will tighten the fuel pressure sensor with the proper torque. If there is a fuel leak, Lexus dealers will replace the gasket between the sensor and the delivery pipe and will tighten the sensor. The recall will be free for owners of affected vehicles. If you own one of the vehicles involved in the voluntary recall, Lexus will notify you by mail soon.
Toyota announced a separate recall of 1.3 million vehicles worldwide to fix a different condition on a different fuel delivery pipe and a high pressure fuel pump check valve. This recall does not affect any Toyota or Lexus vehicles sold in North America.
Despite Toyota Motor Corporation's numerous recalls, the automaker beat GM to be number one in global auto sales in 2010. Toyota said Monday that it sold 8.42 million cars and trucks in 2010, while General Motors sold 8.39 million vehicles, The Detroit News reports.
In January, Lexus is offering 2.9 percent auto loan financing on select 2011 models, as well as three-year leases on several vehicles.