USAA Announces 2011 Best Value Vehicle List
USAA, a provider of insurance, banking, investment and retirement products and services to U.S. military members and their families, has released its first "Best Value" vehicle list. USAA named 16 vehicles to its list from the 2011 model year that it feels give buyers the best overall financial value and also rank high in safety.
"We're making members' lives easier by taking the guesswork out of buying a new vehicle," Steve Thompson, assistant vice president, USAA, said in a statement. "The 'Best Value' vehicles typically have better safety ratings, lower Manufacturer's Suggested Retail Price and insurance costs, higher fuel economy and better overall reliability than other vehicles in the same category."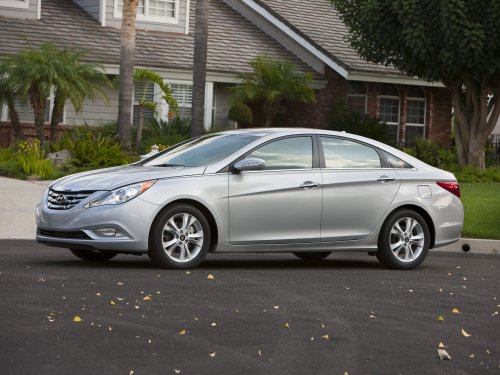 The 2011 Hyundai Sonata was the best value among midsize sedans.
"Our members turn to us for help and advice because they know they can trust us," Thompson said. "The 'Best Value' list helps members make smart financial decisions by determining which vehicles give them the most bang for their buck."
USAA 2011 Best Value vehicles:
Large Sedan:
Dodge Charger
Large Luxury SUV:
Audi Q7
Midsize Sedan:
Hyundai Sonata
Midsize Luxury SUV:
Lexus RX 450h
Small Sedan:
Chevrolet Cruze
Large Pickup:
Chevrolet Silverado 1500 Hybrid
Large Luxury Sedan:
Hyundai Genesis
Small Pickup:
Suzuki Equator
Midsize Luxury Sedan:
Audi A4
Large SUV:
Chevrolet Traverse
Midsize SUV:
Toyota FJ Cruiser
In selecting these 16 vehicles, USAA considered the MSRP, ownership costs, depreciation, safety, gas costs, auto insurance costs and extended warranty costs. When looking at safety, USAA only considered vehicles that received one of the top two safety ratings from the Insurance Institute for Highway Safety. IIHS Top Safety Pick vehicles were given additional weight in the rating system.