Used Cars to Stay Away From and Ones to Buy
Despite generous incentives for new vehicles, there are a lot of consumers choosing used cars right now. Not only will you save money because the initial depreciation has already happened, but well-maintained used cars can last 10 years or longer.
U.S. News & World Report looked at J.D. Power and Associates Vehicle Dependability Study and independent evaluations of professional auto reviewers to come up with four used cars you should stay away from and four you should consider adding to your shopping list.
Keep in mind that used car loans still require about 10 to 20 percent down payments and the interest rates are usually higher than new car loans. But the insurance is sometimes cheaper and the total purchase price is cheaper, meaning your total loan amount will usually be less, giving you lower monthly auto loan payments.
Worst Used Cars:
1998 – 2010 Volkswagen New Beetle
The Volkswagen New Beetle hasn't changed much since it was introduced and has had reliability problems. "Buying a New Beetle, used or new, just doesn't make sense." – U.S. News & World Report
2006 – 2010 Suzuki Grand Vitara
Reviewers say the performance isn't up to par and the interior is bland. Although the Grand Vitara has improved, it doesn't compare to rivals like the Honda CR-V and Toyota RAV4.
2004 – 2010 Mitsubishi Galant
Although my friend still drives his 2003 Mitsubishi Galant, loves it and plans on driving it until the wheels fall off, it still made the worst used cars list. U.S. News says the Galant is mediocre with "ho-hum performance."
2004 – 2010 Chevrolet Aveo
Similar to the old Chevrolet Cavalier, the Aveo is a popular high school and college student car. I had a Cavalier through high school and college myself and loved it. It was affordable, good on gas and since it was so cheap, I never cared if my friends spilled something in it or if someone dinged it in a parking lot.
"Though it performs well in government crash tests, the Aveo lacks much of the accident avoidance and crash protection equipment that comes standard in other affordable small cars." – U.S. News & World Report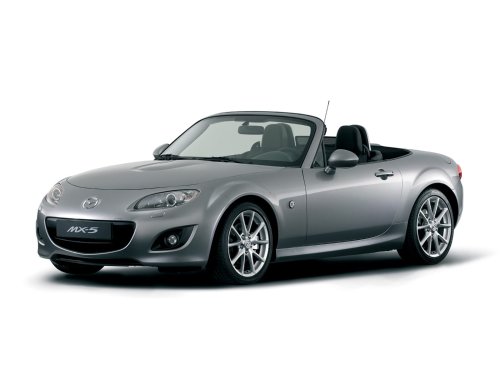 The Mazda MX-5 Miata made the best used cars list for its reliability and handling.

Best Used Cars:
2004 – 2009 Toyota Prius
It's a hybrid, which means it's good on gas and "green", which is quite trendy right now. The Prius has been described as adequately powered, comfortable to drive and spacious.
2007 – 2009 Honda CR-V
Safety, utility, affordable, reliable all have been used to describe the CR-V. "Few vehicles do as many things as well as the CR-V. As practical as a backpack, this benchmark crossover is an easy, one-size-fits-most car choice." – Kelley Blue Book
2006 – 2009 Mazda MX-5 Miata
The Miata is a sporty, fun convertible. And it's also affordable, unlike most other convertibles. The handling, exterior looks, interior quality, performance and reliability are all positive traits for the Miata.
2005 – 2009 Buick LaCrosse
The LaCrosse was described as practical, comfortable, with a smooth ride and good history of reliability. "Clean styling, genuine refinement, and rewarding driving experience aside, the LaCrosse is still a vehicle best appreciated by those with fairly conservative automotive tastes." – Automobile Magazine