Used Car Prices Up 10 Percent, Some as High as 30 Percent
Three-year-old used vehicles cost on average 10 percent more in July than they did during the same month a year ago, according to Edmunds.com.
The average price U.S. shoppers paid in July for three-year-old used cars was $19,248, which is an increase of $1,800, or 10.3 percent, from July 2009. The average price of a three-year-old vehicle is down 2.1 percent from June of this year, which Edmunds.com says is a typical seasonal decline.
"Consumers are generally paying considerably more for used cars this year compared to 2009," said Joe Spina, a senior analyst for Edmunds.com. "A lack of confidence in the economy is driving more people to used cars, putting upward pricing pressure on a limited supply of vehicles."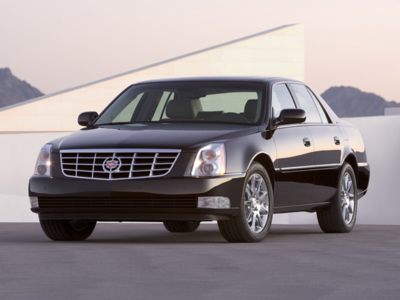 If you're in the market for a three-year-old car like this 2007 Cadillac DTS, be prepared to pay more than you would have if you bought a year ago.
Industry experts have also attributed the rising cost of used cars to last year's government cash for clunkers program, which took a lot of used vehicles off the market because they were scrapped instead. And since the supply is down, the price is up, which means shoppers will have less wiggle room when negotiating. Edmunds.com lists its average used vehicle (three years old) True Market Value pricing data below, which is also on its site.
Model July 2010 July 2009 Change
Cadillac Escalade
$34,715 $25,600 35.6%
Chevrolet Suburban $27,193 $20,262 34.2%
Dodge Grand Caravan $15,629 $11,661 34.0%
BMW X5 $40,843 $30,711 33.0%
Acura MDX $29,852 $23,109 29.2%
Segment July 2010 June 2010 July 2009
Subcompact Car $9,676 $9,784 $9,162
Compact Car $11,021 $11,144 $10,492
Midsize Car $14,090 $14,235 $13,779
Sport Car $16,302 $16,538 $15,395
Premium Sport Car $36,442 $37,354 $32,373
Large Car $14,734 $14,899 $13,953
Luxury Car $23,582 $23,975 $20,326
Premium Luxury Car $31,585 $32,212 $29,112
Compact Truck $16,444 $16,684 $14,272
Large Truck $20,845 $20,989 $19,058
Compact SUV $16,394 $16,571 $14,332
Midsize SUV $18,697 $18,915 $17,335
Large SUV $25,193 $25,856 $18,846
Luxury SUV $30,743 $31,197 $26,623
Minivan $17,318 $17,498 $15,533
Van $13,871 $13,640 $12,190