What's Holding You Back From Applying For a Car Loan?
With car sales down to levels not seen in decades, automakers and dealers want to know what's keeping consumers from buying cars.
These consumers believed they wouldn't be able to get an auto loan, even under the tighter credit standards in the industry. As a result, in the first quarter of the year, close to 400,000 new-car sales were lost due to these consumers who doubted their credit worthiness.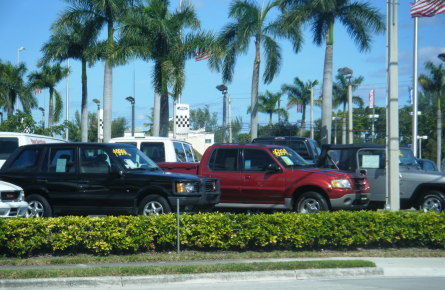 Trucks and SUVs sit on a dealer's lot in Florida, just waiting for qualified shoppers to come out to the dealership. © 2009 AutoLoanDaily.com
Liz Pulliam Weston
, a personal finance columnist for MSN Money, says that since there has been a lot of media coverage about the credit crunch, this may cause people to think they wouldn't get approved for a car loan.
"A lot of media outlets aren't doing a good job differentiating the difference between people with good credit and people with bad credit," Weston says. "If you have bad credit, it's going to be harder to get approved."
Jesse Toprak
, executive director of industry analysis for Edmunds.com, says that the media does set a mood and can influence consumer behavior.
The media plays a big role, especially for middle America, Toprak says.
"The general impression in the media is that it's nearly impossible to get a car loan," he says. "This is not really the case. While it's harder in general for subprime consumers, for most consumers, there's no reason to be afraid to apply for a car loan."
Weston says that while the credit situation was frantic at one point, it has settled down now.
"The financing situation has improved more than people think," she says. "It's calming down."
So what is holding consumers back from applying for an auto loan to purchase a car?
Weston (pictured below) says she thinks the uncertainty about jobs ranks highest on people's reasons not to try to buy a car right now.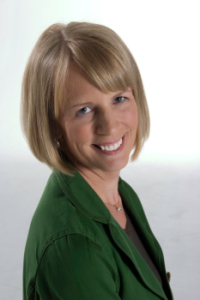 "The unemployment rate is the highest that a lot of people have ever seen," Weston says.
Consumers may be worried they could lose the income to support a car purchase, she explains.
Toprak says that some consumers may be afraid of getting rejected if they apply for a car loan.
"Try to get preapproval before going to the dealership," Toprak says. "If you get rejected, you can ask the lender why. Do it online if you're afraid of rejection."
There really are no negative consequences in applying for automotive financing, Toprak explains.
"It's difficult for me to understand why someone wouldn't apply for a car loan if they need a car," he says. "Consumers should underplay the media's exaggeration of the financial markets now. There's no reason not to try if you need a car."
Commercials and marketing campaigns recently popped up that are trying to make consumers aware of the availability of auto financing.
"Right now, lenders aren't letting people know auto loans are available," Weston says.
Toprak agrees, saying that captive finance companies need to promote that money is available for auto financing. Smaller banks and lenders can also promote the availability with banners and marketing campaigns, he says.
For example, Toprak says that when he used to run dealerships, they would have a tent sale and the local bank or credit union would send a loan officer to the tent sale for on-the-spot auto loan approvals.
"Don't believe the hype that money isn't available," Toprak says.
For those who plan on buying a car in the near future, there are some things they should consider before heading to the dealership.
Know what you can afford, Weston says. It used to be that you should keep your car payment to 20% or less of your gross income. But it's much smarter to keep it below 10% now, she says.
"This means that someone may earn $50,000, but can't afford a new car," Weston says.
Weston suggests to consider buying a gently used car and hanging onto it for 10 years.
Experts repeatedly say that you should never start shopping for a car unless you know what your credit score is first. Weston says that 50% of adults have a credit score of 700 or higher.
"If your credit score is lower than 700, you should increase it first," she says. "The incentives aren't going to disappear overnight. Maybe wait six months and improve your score first. Paying down credit card debt is the fastest way to improve your score."
Toprak says that when he used to work in the finance office at dealerships, if the consumer had a credit score above 700, it was an automatic approval.

"We never had to ask them how much money they made if their credit score was above 700," he says. "Having a good credit score is not enough now. Lenders will look at your debt-to-income ratio and job stability. Lenders are looking at applications more closely."
Toprak (pictured right) suggests applying at your local credit union. He says the advantage with a credit union is that they are less likely to focus on your credit score and look at things like your income and ability to pay.
One suggestion Weston has for consumers is to go to the dealer and see where you're at first before you apply. Tell them what your situation and credit score is and ask what kind of rate you would qualify for. Make sure they don't pull your credit though.
Weston also suggests that consumers not stretch out a car loan over many years, as was popular in the past to keep monthly payments down.
"Try to limit the length of a car loan to four years and less," Weston says. "This makes it more likely to get consumers to buy a car they can afford."
Toprak says that if your credit score is 620 and higher, definitely give the car loan application a try.
"Unless your score is less than 600, there's really no reason not to try," he says. "The worst they can say is no."
Even consumers with not-so-perfect credit should try if they have a stable job because there could be an explanation as to why there is a ding or bad account on their credit report, like a mortgage default, Toprak explains.
For consumers with credit scores less than 600, Toprak suggests you have as much of a down payment as possible and focus on buying a cheaper car.
"Loans are still available for those customers," he says. "The higher the down payment, the better. Lenders will look at the risk involved. With a big down payment, you help the lender minimize their risk."
For consumers with low credit scores, there is always the option to go to a buy-here-pay-here dealership as a last resort, Toprak says.
So with interest rates at the lowest levels in years, available car loans and many car buying incentives, what's holding you back from applying for an auto loan? Let us know in the comments section below.
Copyright © 2009 AutoLoanDaily.com. All rights reserved. This material may not be published, rewritten or redistributed without permission.