Chris Brown Charged With Hit And Run Following Fender Bender
Chris Brown is in trouble for more vehicular drama. Now Chris Brown has been charged with hit and run following an accident with a Mercedes-S-Class driving woman. Chris Brown reportedly refused to give the woman any valid information and sped off when she took a picture to prove he was driving.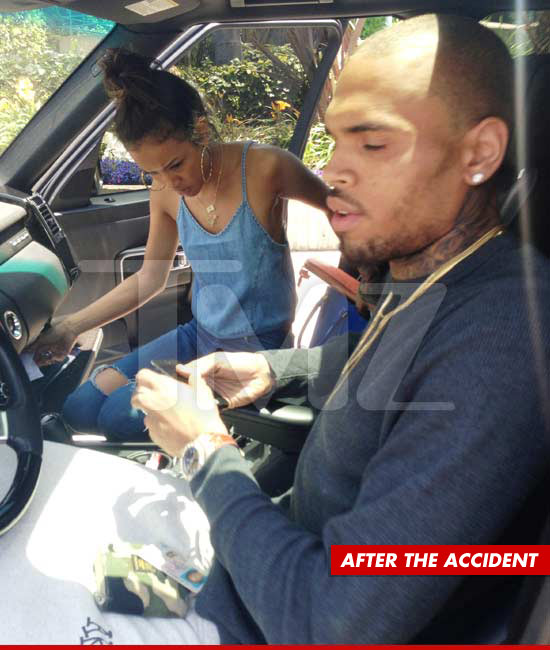 According to the woman Chris Brown rear ended, she asked him for his driver's license, registration and insurance. Brown's girlfriend Karrueche Tran, who was a passenger, tried to give the victim her driver's license and Brown tried to give the woman insurance information for another car. The victim saw that something was up and decided to snap a picture of the couple to prove Brown was driving. At that point Brown lost his temper and screamed at the woman, swearing and prompting Tran to yell at him "don't touch her, don't touch her."
What's interesting about that story is that there is video an onlooker took of the incident and it seems to be a normal traffic accident, with the parties exchanging information peacefully. It's kind of a stretch to imagine that someone who would stop to videotape something as mundane as a fender bender wouldn't bother to film when a famously volatile celebrity went off the handle during the event.
According to TMZ, Brown has been charged with leaving the scene of an accident and driving without a valid license. What's even worse for Brown is that the case has been turned over to the L.A. Country D.A. and they will be reviewing it to see if Brown violated his parole for beating up Rihanna. If he did violate parole, Chris Brown could go to prison for four years. In his defense, Brown has said that there was no damage to either car and that he provided the woman with his Virginia driver's license and an insurance card that had all of his contact info on it, he had just mistakenly put the insurance info for the wrong car (his awesome Hot Wheels Lamborghini that replaced his blacked out Porsche 911) in his glove box. He then accused the woman of wanting a payday because she saw who he was.
What do you think? Is Chris Brown being shaken down by a woman whose car he didn't even damage or is he at fault for the situation?
Image via TMZ.