Nicolas Cage's Car Shopping Habit
After suing his former business manager for claiming he mismanaged his money, Nicolas Cage is now being countersued by the same person.
Cage's former business manager, Samuel J. Levin, filed the countersuit Nov. 12, less than a month after Cage filed a $20 million lawsuit against Levin for fraud and claimed he had led him toward financial ruin.
Levin's suit claims Cage's excessive spending habits are the cause for his money problems. Cage owes more than $6.5 million to the IRS. He has been forced to sell some of his property to help with his money shortage.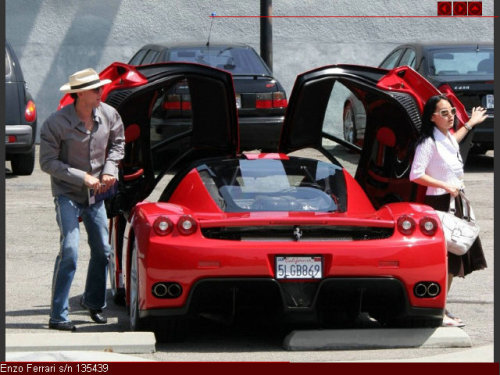 Levin's lawsuit claims in 2007 alone Cage bought $33 million in property, 22 automobiles and nearly 50 pieces of expensive jewelry, art and other exotic items.
Cage is known for his lavish rides and at one point, reportedly owned 50 vehicles. According to the Daily Beast, in 2004, Cage owned 18 motorcycles and 30 cars.
Cage spent nearly half a million dollars in 1997 on a Lamborghini Miura SVJ that had been owned by the shah of Iran and was confiscated from the Imperial Garage during the 1979 revolution, the Daily Beast reports.
Nicolas reportedly kept his vast array of cars in a hangar at the Santa Monica Airport. His collection includes the usual celebrity cars like Bentleys, Rolls Royces, Aston Martins, Lamborghinis and Ferraris, including many vintage cars as well. At one point, Cage was reportedly buying one car per month.
The Ferrari Enzo pictured has an MSRP of $643,330 when it was manufactured in 2003. Current resale values could top $1 million. If we assume he bought the car in 2003, Cage's monthly auto loan payment would be $12,993 a month! That's even with a 20% down payment of $128,666 and a car loan stretching over 48 months at a 6% interest rate.
Let's face it. Cage's auto loan payment for just one car is more than some people make in a year. And we wonder why celebrities have trouble managing their money.
Image via anythingonwheels.com.