Richie Incognito's Ferrari FF
Richie Incognito has found himself with some extra time on his hands since being fired by the Miami Dolphins, and to fill that time he just took delivery of a Ferrari FF. The $300,000 Ferrari hatchback was delivered to Incognito in Fort Lauderdale recently, according to TMZ.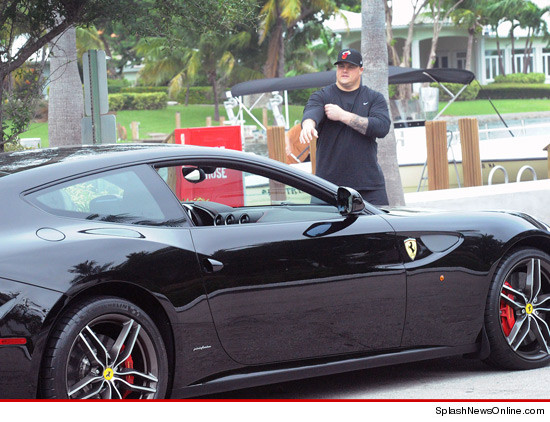 The Ferrari FF is a front engine, all wheel drive sports car powered by a 6.3-liter V12 engine. The FF has 651-horsepower and 504 lb-ft of torque and will do 0-62-mph in 3.7 seconds. The top speed of the FerrariFF is 208-mph. With that kind of speed, Incognito should be able to keep himself entertained. Unfortunately for him, South Florida's roads are pretty congested, so let's hope he manages to keep himself from bullying any civilians when he gets caught in traffic.
Richie Incognito isn't the only athlete with a Ferrari FF, the shooting brake style (two-door hatchback sports car) must give the car a little bit of extra room because Dwight Howard manages to fit into the driver's seat.
If Richie Incognito really wanted to show off his wealth despite losing his job, he should have tracked down a Neiman Marcus Ferrari FF.
Image via TMZ.