Dealer Claims They Can Finance Auto Loans For FICO Scores as Low as 400
Increased auto sales and more car loan approvals are signaling a thawing of the auto finance industry, which will help consumers with less-than-perfect credit buy a car.
The Wall Street Journal spoke with a Honda dealership finance department director who claims he can finance consumers with low credit scores and small or no down payments.
Today, "if you have a job, and there's equity in the loan…that's it," Ed Gorham, director of the finance department at Planet Honda in N.J., told The Wall Street Journal.
Gorham said that in many cases, customers don't need down payments and consumers with FICO scores as low as 400 are getting auto loans. The story didn't mention how much down payment would be required for car shoppers with FICO scores so extremely low or what interest rate they would receive.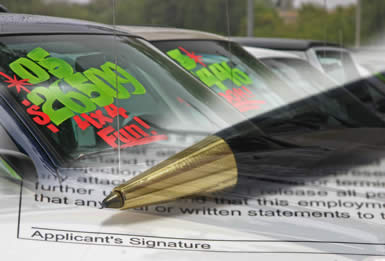 While every consumer's situation is different based on their income, current debt levels and several other factors, many in the industry would find it hard to believe that shoppers with FICO scores in the 400-range are able to get approved for auto loans, especially when there are consumers with much higher scores getting denied.
While interest rates are dropping for consumers with good and prime credit scores recently, consumers should know that they will most likely receive a very high interest rate if they have bad credit and will need a considerable down payment. In October, we spoke with Evan Moss, finance director of Delray Mazda in Delray Beach, Fla.
"The majority of our customers have beacon scores over 660," Moss said. "I get approvals for customers with beacon scores under 550 75 percent of the time. Moreover, I have several special finance companies that will give almost anybody alive a loan. However, they do tend to charge very high interest rates."
According to The Wall Street Journal's story, the auto credit market's recovery is a result of several factors, one of them being the Federal Reserve's TARP program, which allowed auto lenders to raise capital for new car loans by selling off their old ones.
The number of consumers with subprime credit scores purchasing vehicles was up in the fourth quarter, meaning more people with bad credit are able to get approved for car loans.
"While the lion's share of the new car market is being driven by prime lending, loans for subprime customers are still out there, especially in the used market, if customers and automotive retailers know where to look," said Melinda Zabritski, director of automotive credit for Experian Automotive.
It's still true that if you have a prime credit score, you won't have much problem getting approved for a car loan. But consumers with bad credit still need to realize that the lender isn't just going to hand them the keys to the car without either charging them a high interest rate or requiring a large down payment, or both, as was common several years ago.