Kim Kardashian and Kanye West's Daughter North West Gets Her First Lamborghini
North West, daughter of Kim Kardashian and Kanye West, is basically guaranteed a life of opulence and flashiness, so why not get her started right away? Kim Kardashian posted this picture to Instagram of North's first car, a flat black lambo to match her daddy's.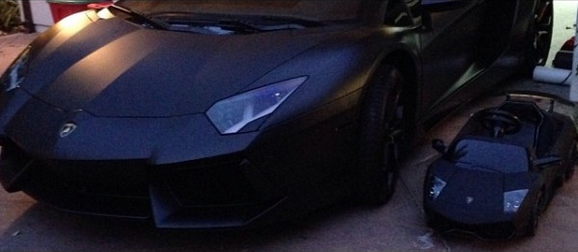 Kanye drives a flat black Lamborghini Aventador LP700-4, a 690-horsepower 6.9-liter V12 powered supercar with a top speed of 217-mph. North West's Lambo is a Murcielago toy car that has also been painted flat black. The Murcielago was the top of the line Lamborghini before the Aventador was released in 2011, so it's appropriate the North would get a Murcielago. Most kids first cars are either used or hand me downs from their parents, so she'll probably end up with either the used Aventador or her mom's G63 AMG (it could also be the Dartz Prombron Armored SUV her parents bought when she was born, imagine parking your 15 year old Corolla next to that in the school parking lot).
Image via Kim Kardashian's Instagram.