Victor Cruz' Blacked Out Ferrari California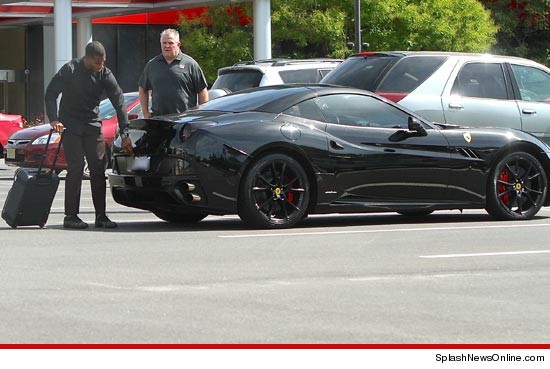 Victor Cruz, wide receiver for the New York Giants, signed a $43 million contract to play for the Giants for five more years. While Cruz said in an interview that he was a bit disappointed with the $43 million, he took a hometown discount to be close to his family. Apparently he consoled himself with a new Ferrari California.
Victor Cruz' Ferrari California is beautifully customized in all black. Aftermarket black wheels and blacked out tail lights give Cruz' California a sinister look. And the Ferrari California can back up that evil look, it has a 454-hp V8 engine and a top speed of 193-mph.
The Ferrari California is a popular car for celebrities. Ashton Kutcher drives a red Ferrari California, Young Jeezy has a black Ferrari California with gold wheels, and The Situation has a black California with black and chrome wheels. Thanks to its traditional front-engine, four seat layout with a trunk, the Ferrari is a bit more viable as a daily driver than the typical mid-engine two seater Ferrari.
Image via TMZ.