Top 10 Most Read Stories of 2010 on AutoLoanDaily.com
Bad credit, auto lender requirements and the increased thawing of the auto credit market are just a few of the major automotive finance news topics of 2010. When looking at the auto industry as a whole, this year, we saw automakers introduce electric cars and many newly redesigned vehicles, GM issue its IPO and automakers start to hire again.
We went through our numbers to find out which news and advice stories you read the most on AutoLoanDaily.com in 2010.
Our coverage of a steering column recall on the 2011 Hyundai Sonata sedan was our most read story of 2010. There was a problem with the steering column connections being properly attached, which could result in a loss of the ability to steer the car. Hyundai began fixing the cars in October.
The new Sonata is the top-selling car this year for Hyundai. The automaker has sold 183,102 Sonatas so far in 2010 (as of Dec. 10). It's no surprise it was the most popular news story on AutoLoanDaily.com this past year.
Other popular stories on our site in 2010 were auto loan-related, of course. The story about income verification and why it's important to auto lenders was our second most read story of the year. This story gave an in-depth explanation of how a consumer's monthly income is factored into the lender's decision for an auto loan or lease approval.
The rest of the stories on our list covered vehicle recalls, credit scores, new cars, auto loan rates, reliable cars, electric cars and when to buy a car to get the best deal. Click on each story title to go directly to that story.
What's Hot at the 2010 New York Auto Show

Scion Named Most Reliable by Consumer Reports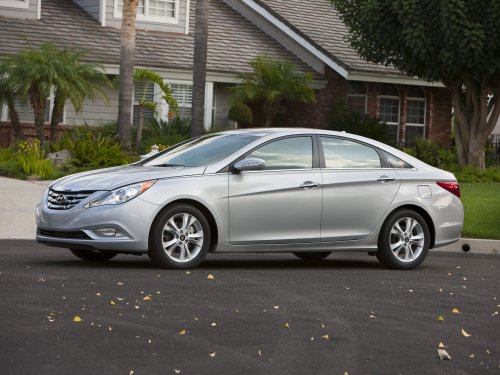 A steering column recall for the popular 2011 Hyundai Sonata was the most read news story on AutoLoanDaily.com in 2010.
Copyright © 2010 AutoLoanDaily.com. All rights reserved. This material may not be published, rewritten or redistributed without permission.